Insist on the highest standards of oppression to our families. I am an engineer at Amazon: 2017-present.
Today is Saturday, happy day. Happy me, happy Amazon: not a working day, not a protesting day.
Just one note about motivation. One smart guy told long time ago: "There is a major reason to protest. You are doing this not for others. You are doing that not because you will be accountable to others. You are doing that because if you don't, you will be accountable to yourself".
I met and spoke with a lot of people during these days. They approached me and told to me their stories at Amazon. They told my problem is not a problem at all. In comparison with for example what is happening in the fulfillment centers. It is proud for me to stay there with the banner. I admit my life is worthy if I could change just 1% of this horror by staying here. I will stay here weeks, months and years if needed. This is the most proud job for me.
How many children are left without parents? How many dying parents are not allowed to see children working for Amazon? How many injured workers are kicked out without honor?
Jeff Bezos is the richest guy in the world. His children do not suffer. They are not disabled. Jeff Bezos is not prohibited to see his parents. I am proud to speak out about this.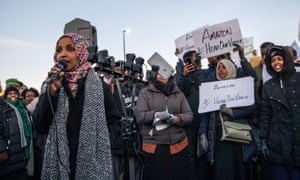 Photo and another story by
Guardian
Next day of protest